Rocking Chairs, Hickory Rockers, Children's Rockers,Porch Furniture
HICKORY ROCKING CHAIRS
and Porch Furniture
---

---
The Rustic Arch Hickory Rocker with Natural Cane
please scroll down for pricing & dimensions
Except for a Massage....

Nothing is More Relaxing

than a Rocking Chair
.
ALL ROCKERS MADE TO ORDER
Please allow up to 6 weeks for delivery
.
the RUSTIC ARCH ROCKER
Same Rocker Shown In Introduction Photo Above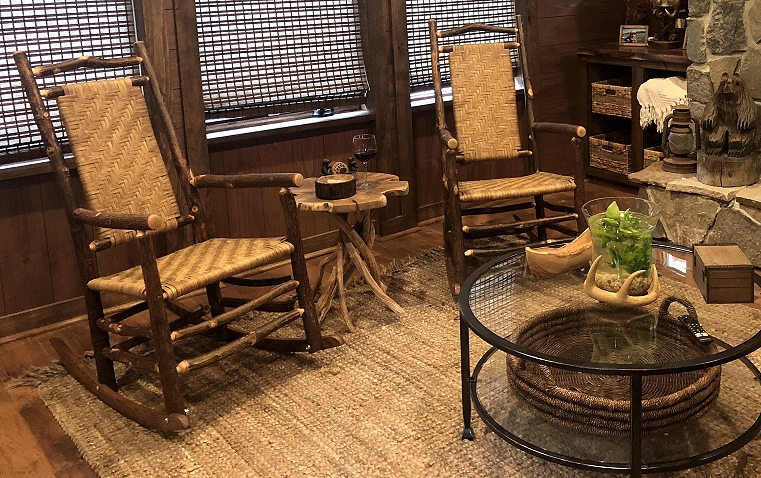 Upholstered: $795.
Use your fabric or ours

Cane Style: $765.
shown in Antique Cane
Dimensions: 49" Tall, 32" Wide Overall ~ 36" Deep including rockers

Rustic Arch Rockers with Paddle Arms
Price $805.Cane ~$840.Upholstered ~ plus shipping


.
Arnold Schwarzenegger, Amanda Kerr
& Jeremy Renner ~ Relaxing before
the Jimmy Fallon Show
in our Hickory & Cane Rockers
The Tonight Show, NYC
.


---

NBC Remodled Studio 6B & added
a "Cabin" Room for guests of the
Tonight Show in which we supplied
many of the accessories including
our Rustic Arch Rocker.
*Photos of Actors Courrtesy of
The Official Instrgram for the Tonight Show
starring Jimmy Fallon- www.Tonightshow.com

.
All Our Furniture Joints are
secured by Mortise and Tenon.
Our Furniture will never loosen
or rack & will last a lifetime
.

~ Flat Top Rockers ~
Also available with Paddle Arms~ Add $40. per Rocker
49" Tall, 32" Wide Overall, 36" Deep ( inlcuding Rockers)

Upholstered
Upholstered ~$ 795. plus freight

Upholstered Tall Back Rocker
with Paddle Arms ~ Price $970.

Antique Cane
Price: $ 765. plus freight


..


Cane Settees, Benches,
Lounge Chairs
& Ottomans

Slant Back Cane CHAIRS with Paddle Arms and Matching Ottoman
32" Wide- 39" Deep- 39" High
Price: $ 795. Chair ~ Ottoman : add $140. ~ Plus shipping ~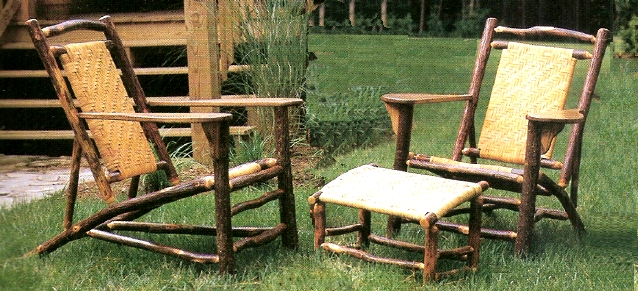 Slant Back Settee ~ Paddle Arms
50" Long- 39" Deep- 39" High
Price: $ 975. ~ Plus shipping ~

Cane Double Back Settee
47" Long x 27" deep x 42"high
~ Price: $ 955. ~Plus shipping ~

Cane Ottoman
1 8"w x 20"d x 18"h
~ Price: $215. Plus shipping

Rail Back Settee with Cane Seat
47" L x 27" D x 42"H
~ Price: $ 975. ~ Plus shipping ~


NATURAL BARK HICKORY
NATURAL BARK is Hickory with the bark left on. It has an
extremely tight grain and is smooth to the touch although it
has a textured rough look. It has a very rustic natural look
and is the standard finish for Rustic Hickory Furniture.
| | |
| --- | --- |
| FABRIC SELECTIONS | |
Many of the Fabrics shown on selected chairs are
customers own material. Please check to see our fabrics.

PORCH FURNITURE
Suitable for a Covered Area
OVERSIZED
AMISH STYLE
Bent Hickory
Rocker

---


Generously
Proportioned
with a wide seat
great back
support and
rocking comfort
25"w (Seat)
x 32"d x 45 "h


---


PRICE: $670. plus shipping
The Variations for this Furniture
are ENDLESS.
Any Chair or Settee can be a ROCKER &
any color combination you can dream up!
PINE TREE SETTEE
50"W x 22" D x 40" H
PRICE: $ 1300.
PINE TREE CHAIR
28" w x 20"d x 42" H
PRICE: $ 725.

PINE TREE ROCKER
30" w x 28"d x 42" H
PRICE: $ 795.

AVAIALABLE IN
COMBIANTIONS
AS SHOWN
with a Wash of
RED ~ BLUE ~GREEN
or NATURAL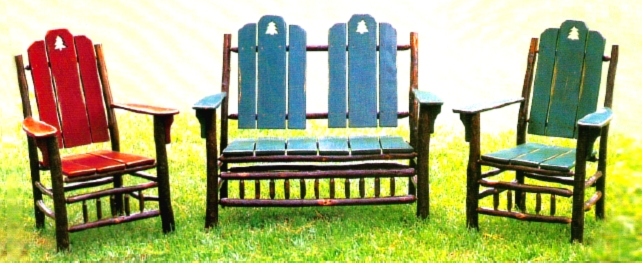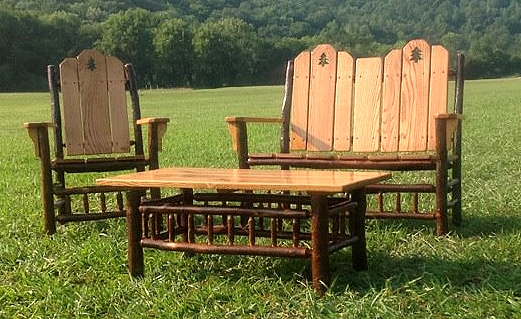 PINE TREE COFFEE TABLE
Shown in Size: 42w x 22 dx 18 h~ PRICE: $1050.~ plus s/h
Matching SideTable in Same Style 22"w x 22" d x 18" High
Price: $755. plus shipping


518-668-3543

for INFORMATION, ORDERS & Freight Quotes



Web Site Concept, Graphic Design and Text by Adirondack Rustic Design© 1997 to present
All graphic illustrations & original artwork the exclusive property of Adirondack Rustic Design© 1997
All rights reserved
Web site production by ADIRONDACK RUSTIC DESIGNS-Lake George, NY, 12845 USA